If you would like to buy an item or simply have a question, please call us: 1-800-289-5342
We do not have a "shopping cart" because we prefer having personal contact with our customers. We find that a brief telephone conversation is much preferable, especially when a item is used or collectible. 
We accept U.S.- and Canadian-issued Visa, MasterCard and American Express credit cards (as well as some - but not all - U.S.-issued debit cards), Bank "Wire" Transfers, Bank Checks and Money Orders drawn on U.S. banks. If you are visiting our showroom, you may use your non-U.S.- or Canadian-issued card. 
Tamarkin Camera does NOT charge Sales Tax when we deliver goods outside the fine State of Illinois. This includes the State of California - we do NOT charge sales tax any longer when we deliver goods to California. You can learn more here.
Warranties
All New items come with the manufacturer's warranty. Our Used items come with a Tamarkin Camera six-month warranty unless otherwise stated, and all our goods come with a no-hassle 14-day (from receipt) Return Privilege. 
New and used items are subject to a 10 percent re-stocking fee and must be returned with all original boxes and packaging. Additionally, the warranty and/or other benefits must not be registered or downloaded.
Additionally, any service other than under warranty - on new or used items - voids the terms of the Tamarkin Camera warranty. Please ask for specifics regarding our warranty.
Please call us to learn more – 1-800-289-5342 or 1-800-BUY LEICA
We buy Leica M gear at 66 percent of the current used retail prices.
We buy Leica R and Leica Screw-Mount gear at 50 percent of the current used retail prices.
We pay Consignments of all types of gear at 70 percent once each item sells.
Here's how the process works:
By providing a brief description and, perhaps, the serial number of the items you wish to sell, we can give you an idea of the current used retail prices for your gear.
In order to give an appraisal – or a cash or trade offer – we'll need to examine the gear first-hand.
Should any service or repairs be necessary, we can provide both estimates as well as the service itself. For example: a full Cleaning, Lubrication and Alignment ("CLA") of a Leica M camera costs around $300 or so if no parts are needed. CLA of a Screw Mount camera costs around $200 or so if no parts are needed. Typically a CLA for most Leica lenses lens costs $100 or more.
Once we make an offer for your Leica gear, you are free to accept or decline – there is never any obligation.
Strict guidelines are imposed on buyers and sellers of used photographic equipment, such as Tamarkin Camera. And, strict guidelines are imposed: all information is safeguarded and never shared.
Please call us to learn more – 1-800-289-5342 or 1-312-642-2255
Why a fixed percent?
Because we feel that a fixed percentage is fair to both the buyer and seller, and it allows us to offer a reasonable expectation for everyone. We stand behind everything we sell, and we warranty the gear, at our own expense.
Is there any obligation to sell?
No, there is never any obligation. Once we receive your gear, we offer a free appraisal and a cash offer. Should you decide to decline the offer, we will send the gear back to you. (There may be a modest shipping charge to return the gear. A modest shipping fee, at cost – this is usually $25 or so).
How can I find out the current used retail prices of the gear I wish to sell?
Send us an e-mail – or better yet, call 1-800-289-5342 – and give us the serial numbers of your gear and any other info you might have. Also, photos are helpful (but not necessary) in determining exactly what gear you have.
Is there a difference between a cash offer and a trade offer?
No. We buy at the same rate, whether for cash payment or for trade. We are happy to hold items for a trade – just let us know what you'd like to buy with your offer.
What if the gear I have to sell is brand new?
We still buy at a fixed percentage, but new gear is always more expensive than the same item in used condition. You can be certain that our offer will be based upon current market values, whether for new or used Leica gear.
Can I trade my gear in for credit on a future purchase?
No. We do not offer credit or financing. However, we are happy to hold anything we offer pending your trade. Once we have begun the process, we will hold the merchandise you wish to purchase pending the trade outcome (offer).
What if I want to trade only part of what I send in for appraisal?
That's just fine. You are welcome to trade, sell or keep any item you present – there is never any obligation to sell or to buy.
Does Tamarkin Camera take consignments?
Yes. We can sell your gear for you. We pay 70 percent for consignments.
Why must I provide personal information when selling or consigning?
The City of Chicago Municipal Code requires Tamarkin Camera to collect and safeguard certain data to combat the selling and consigning of stolen goods. We must do this by law. Your information is never shared and is not used for any purpose.
Why must consignments be held for 30 days before being sold?
This in another requirement of the City of Chicago Municipal Code. On the 31st day, we immediately list your consignment for sale. If repairs are needed, they can take place during these 30 days. If you are selling gear to us, there is no waiting period whatsoever.
Please feel free to call us to learn more about how we do business. We are happy to answer questions and provide information, as well as assist in logistics. Call 1-800-289-5342 or 1-312-642-2255.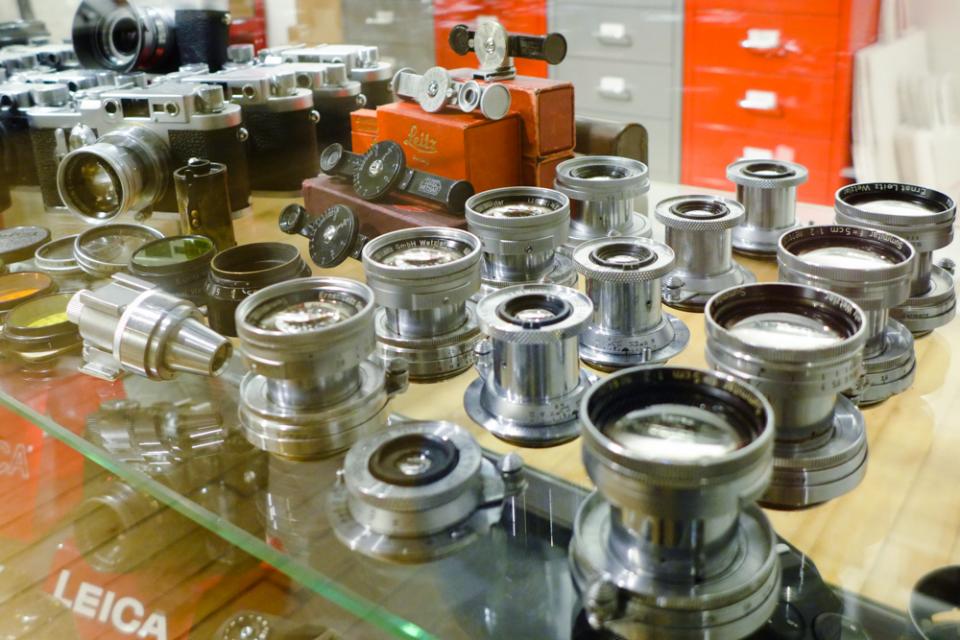 213 W. Institute Place, Suite 403
Chicago, Illinois 60610
(800) BUY-LEICA
(800) 289-5342
(312) 642-2255
We are one of the largest Leica dealerships in the world for more than 50 years, and we are based in downtown Chicago since 2012. We are open to the public Monday-Friday 9 a.m. – 5 p.m., by appointment only.
Working By Appointment Only means that you get our full and undivided attention, and therefore the best service on the planet, in a luxurious environment surrounded by the opulence of the Leica Museum and the Rangefinder Gallery.
To best serve all our clientele, appointments are limited to 50 minutes.
In advance of your appointment, we'll need to know what you wish to see or experience or examine so that we can prepare for your visit. Also, if you are trading or selling that is likewise important information for us so that we can serve you efficiently.
Each Friday afternoon we open our doors to the public – no appointment needed.
Our Open Fridays encourage learning about Leica, plunking down in a comfy chair in our library with a monograph, viewing the photographs on display in the Rangefinder Gallery, and schmoozing with other Leicaphiles. (Please bear in mind that when you visit on a Friday afternoon there may be limited opportunity to view or test or examine our new and used gear.)
Thank you for shopping at Tamarkin Camera – we look forward to serving you!